Recipe
Premium Traditional Konjac Recipe
Konjac Sushi
Konjac Inari
▫Konjac…. 1 block
▫Dashi soup stock…. 300cc
▫light soy sauce…. 1 tablespoon
▫salt…. 1/4 teaspoon

Sushi Rice
▫Cooked rice…. 150g/5.2oz
▫Kakisu vinegar…. 35ml/1.2fl oz
▫Sugar…. 1 tablespoon
▫Salt…. 1 teaspoon
▫White sesame…. 1 tablespoon
▫Black sesame…. 1/2 tablespoon

Directions
Make sushi rice dissolving sugar and salt in the kakisu vinegar.
Thoroughly dress the cooked rice with the vinegar and black and white sesame.
Cut the konjac into 16 slices.
Make a slit pocket with the sliced konjac.
Simmer the konjac with the dashi soup stock, light soy sauce, and salt for 15 minutes.
Drain and cool in a strainer.
Stuff the konjac with an Aoshiso leaf and a tablespoon of sushi rice.
Other cookings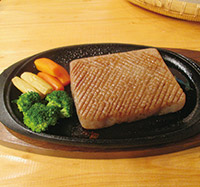 Konjac steak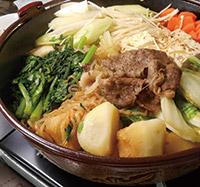 Sukiyaki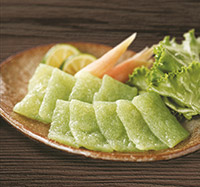 Sashimi Konnyaku
Konjac Noodle Recipe
Konjac Noodle
▫Konjac Noodle…. 1pkg

Ramen broth
▫Soy sauce…. 1cup
▫Fish sauce…. 1tbsp
▫Fresh ginger…. 2oz
▫Daikon radish…. 1/8pc
▫Scallion(white part only)…. 2oz
▫Chicken stock…. 3cups
▫Ground white pepper…. 1tsp
▫Chicken skin…. 2oz
▫Dashi…. 3cups
Water…. 8qt
Konbu…. 1pc
Bonito flake pack 1pack

Garnish
▫Crab legs…. 3pc
▫Boiled egg…. 1/2pc
▫Menma,fish cake,micro cilantro…. a little
▫Itokiri togarashi,Kikurage,Bean sprouts…. a little

Preparation
1.Open Konjac Noodle package and wash thoroghly with water, then set aside.
2.Prepare the Ramen broth by putting ingredients into a medium size pot and heat it until it boils.
Lower the heat and simmer for 20 minutes.
3.Strain the broth and return to the stove at low heat to keep warm.
4.Place Konjac Noodle into a ramen bowl then add broth and garnishes.
Other cookings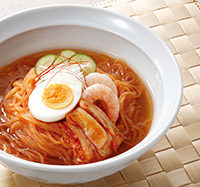 Chuka men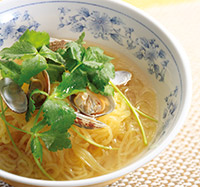 Udon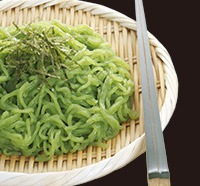 Zarusoba
Miracle Mannan Recipe
Other cookings